More Taxpayer Money Spent Justifying Union Political Agenda in California
More Taxpayer Money Spent Justifying Union Political Agenda in California
About 95% of the public policy studies and reports circulating among California state and local governments reject a free market approach to societal challenges. Instead, these studies and reports advocate more government spending, more government programs, and more government intrusion into commerce and personal behavior.
Obviously "Progressive" intellectual thought in California gets a disproportionate share of funding. Who funds the policy institutes churning out the vision that will likely define the future of the state?
You do. For many of these operations, government is a major source of funding.
Federal, state, regional, and local governments move money around with little accountability through grants and contracts. Some of it ends up going to Left-leaning policy institutes.
One notorious example of a government-funded policy institute is the union-oriented University of California Miguel Contreras Labor Program. After the California Labor Federation succeeded in establishing the program with a $6 million appropriation in the 2000-01 state budget, the annual budget always included a specific line-item amount for the program. The UC Labor Program received a total of $37.4 million in direct appropriations until Governor Schwarzenegger vetoed the $5.4 million assigned to it in the 2008-09 state budget. It continues to operate today with help from taxpayers.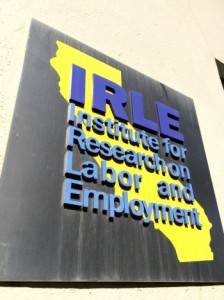 Last week top administrators of the City of Los Angeles decided to contract with the University of California Institute for Labor and Employment (affiliated with the University of California Miguel Contreras Labor Program). For the second time in a year, the labor institute will analyze a proposal to increase the minimum wage in the City of Los Angeles. The public contract for the second analysis is reportedly worth $84,000.
A few Los Angeles City Councilmembers are objecting publicly to the contract because of the obvious bias of the labor institute. Chances of a negative report from this operation are zero, as shown from the first analysis.
Union leaders and lobbyists attained a major victory. They can use these minimum wage studies as a basis to promote minimum wage increases throughout Los Angeles County, the state of California, and in states and cities throughout the rest of the country. Best of all, they don't have to pay for the studies.
Another example of taxpayer-funded Progressive policy analysis and promotion now getting attention is the Bay Area Regional Prosperity Plan – Economic Prosperity Strategy.
In 2011, the U.S. Department of Housing and Urban Development awarded a $4,991,336 grant to the Metropolitan Transportation Commission in the San Francisco Bay Area to develop and implement this plan. In collaboration with the Association of Bay Area Governments, some of this federal money was transferred to "Community-Based Organizations" that have close relationships with unions.

Now the plan has been developed through the involvement of union front groups such as Working Partnerships USA and the San Mateo County Union Community Alliance. "Community Outreach" to the nine Bay Area counties is underway. (See below for information about the five "launch meetings.")
The plan designates $800,000 (including $760,000 in federal funds) specifically to the outreach program, which some might call "lobbying and public relations." Already the Oakland City Council has scheduled an agenda item at its January 13 meeting to discuss the plan.
On January 15, union officials and community organizers will hold a "launch meeting" at the Redwood City Library about the Bay Area Regional Prosperity Plan's Economic Prosperity Strategy. Attendees will get to hear a presentation about "Pursuing Project Labor Agreements and Community Benefits Ordinances." (In other words, how to give unions a monopoly on public and private construction projects.) Project Labor Agreements are a specific recommendation in the plan and are referenced several times.
That particular workshop will not proceed without controversy and fierce resistance from the Merit Shop sector of the construction industry. But it's unclear if and how corporations and business groups in the San Francisco Bay Area will respond to a well-funded coordinated campaign in nine counties to promote a wide variety of leftist policy objectives. Obvious business targets of the plan include residential and commercial developers, high-tech and biotech companies that contract out for services, and transportation related to the Port of Oakland.
Strangely, the Bay Area Council – "The Voice of Bay Area Business" – provided research support for the Bay Area Regional Prosperity Plan. There's a famous but apparently apocryphal quotation attributed to Vladimir Lenin: "The capitalists will sell us the rope with which we will hang them." In this case, the rope is being purchased with taxpayer money.
---
Here is the notice about the "launch meetings."
EPS Launch Meetings
Dear Friends,
We are wishing you very happy holidays and best wishes for 2015. To kick off the year, the Economic Prosperity Strategy drafting team is hosting a series of launch events to build towards our Capstone Conference in April. The workshops are scheduled for January 13, 15, 23, 26 and February 2. Each workshop is in a different location and will focus on different themes in the EPS. We are inviting all stakeholders from all of the Regional Prosperity Plan working groups, all community members who participated in the initial EPS workshops and all local and regional policy makers who will have a role in implementing the strategy. Please share the invitation with your networks. Call or e-mail if you have any questions, 510-207-6346 orkss@well.com.
Best wishes,
Kirsten (The Rev. Kirsten Snow Spalding, San Mateo County Union Community Alliance)
Economic Prosperity Strategy Launch Meetings 2015
In October 2014, a team of partner organizations working for MTC and ABAG issued the "Economic Prosperity Strategy: Improving economic opportunity for the Bay Area's low- and moderate-wage workers." The report is available for download at http://planbayarea.org/pdf/EconomicProsperity_web_single.pdf. The report, part of the Bay Area's Regional Prosperity Plan, was produced with input from hundreds of participants throughout the region, including representatives from economic development organizations, community members, non-profits, businesses, labor, local governments, workforce development partners and others.The thrust of the Economic Prosperity Strategy was that achieving improved economic opportunity for all requires working on three goals simultaneously:
GOAL A: Strengthen career pathways to middle wage jobs (that pay between about $18 and $30 per hour).
GOAL B: Grow the economy with a focus on middle-wage work.
GOAL C: Improve the quality of jobs for current and future lower-wage workers.
Now, it is time to dig into the findings, learn from pilot projects and talk about what it will take to implement the Bay Area's vision of economic prosperity for everyone.In a series of five meetings around the Bay Area, we will focus on these three goals and invite all stakeholders to share in implementing this vision for the Bay Area. This is your chance to shape how we collectively move forward.
EPS Workshop #1: Expanding Economic Opportunity through Basic Skills and Entrepreneurship
Tuesday, January 13, 2015, 9:30-11:30 a.m. Monument Impact, (Formerly Michael Chavez Center & Monument Community Partnership), 2699 Monument Blvd, Ste G Concord, CA 94520
• Expanding job-focused basic skills training
• Improving career navigation systems and supporting pathways, at the k-12 level and beyond
• Focusing on business formation and expansion
Hear from pilot projects including: the Michael Chavez Center in Concord, the Multi-cultural Institute's three County day laborer program, the Allies for Innovation basic skills collaborative in Santa Clara and San Mateo, a worker cooperative project in the East Bay and an entrepreneurship program in Sonoma.
EPS Workshop #2: Building Career Pathways in the Construction Sector
Thursday, January 15, 2015, 9:30-11:30 a.m.  Redwood City Library, 1044 Middlefield Road, Redwood City 94063
• Focus on the Construction Sector
• Establishing industry-driven, sector-based regional training partnerships.
• Pursuing Project Labor Agreements and Community Benefits Ordinances
Hear from the Construction Careers Initiative, an industry driven pre-apprenticeship program in Santa Clara and San Mateo Counties, from local developers and from Building and Construction Trades Councils about initiatives to improve construction sector wages and working conditions and create comprehensive packages of community benefits as new projects are planned and built.
EPS Workshop #3: The Invisible Workforce: Strategies to Lift Up the Low-Wage Contracted Service Sector
Friday, January 23, 2015, 10 a.m. -12 p.m., Pipe Trades Training Center, 780 Commercial Street, San Jose, CA 95112
• Upgrading conditions in lower-wage jobs
• Organizing and professionalizing industries
• Emerging approaches to improving working conditions in contracted service jobs
Hear about issues in several predominantly low-wage industries in the Bay Area, particularly contracted service industries which tend to grow in the "footprint" of driving industries and often remain below the radar. Discuss emerging approaches that address these issues, regional implications of these trends and how to build stronger coordination across cities and sectors that are dealing with the growth of low-wage contracted service work.
EPS Workshop #4:  Coordination between Economic and Workforce Development, Transportation and Housing Plans
Monday, January 26, 2015, 2-4 p.m. SPUR Urban Center, 654 Mission Street, San Francisco, CA 94105-4015
• A Vision for Economic Prosperity for Everyone
• Cross-Sector Collaborations
• Regional and Sub-regional policies
Hear from regional policy makers, local jurisdictional leaders, workforce and economic development agencies and the researchers and drafters of the economic prosperity strategy.
EPS Workshop #5: Planning for Manufacturing, Logistics and Industrial Job Growth
Monday, February 2, 2015, 2-4 p.m.  Metropolitan Transportation Commission, 101 Eighth Street, Oakland, California 94607
• Focus on the Logistics and Goods Movement Sectors
• Develop land use plans that support transit-oriented jobs, industrial uses and housing.
• Develop a regional strategy to preserve and invest in industrial land.
Hear from regional planners about planned investments in goods movement infrastructure, from local jurisdictions engaged in sub-regional strategies like the Port of Oakland and the Northern Waterfront Initiative and Design It, Build It, Ship It, an industry-led workforce and economic development collaborative.
---
Sources: UC Labor Program Studies of Minimum Wage for City of Los Angeles
Documents: Procure an Economic Analysis – Los Angeles City Council Economic Development Committee
Business Leaders Criticize City's Choice to Study Minimum Wage Hike – Los Angeles Times – January 8, 2015
Minimum Wage Consultant Pick Draws Complaints – Los Angeles Daily News – January 8, 2015
Two L.A. Councilmen Ask to Reconsider Team Set to Study Minimum Wage – Los Angeles Times – January 9, 2015
L.A. Needs a Fresh Analysis of the Effects of a Minimum-Wage Hike – Los Angeles Times (editorial) – January 12, 2015
Sources: San Francisco Bay Area Regional Prosperity Plan – Economic Prosperity Strategy
San Francisco Bay Area Economic Prosperity Strategy
Oakland City Council Informational Report for January 13, 2015 Meeting – Bay Area Regional Prosperity Plan
San Francisco Bay Area Economic Prosperity Strategy Launch Meetings 2015
HUD FY2011 Sustainable Communities Grantees
San Francisco Bay Area Regional Prosperity Plan ABSTRACT
---
Kevin Dayton is the President & CEO of Labor Issues Solutions, LLC, and is the author of frequent postings about generally unreported California state and local policy issues at www.laborissuessolutions.com. Follow him on Twitter at @DaytonPubPolicy. This article was originally published in www.FlashReport.org on January 12, 2015 as Taxpayers Fund Biased Policy Justifications for LA Minimum Wage and Bay Area Prosperity Plan.